If shoppers are given chance to choose between walking into a physical marketplace and going online to buy something, chances are more they would choose online shopping.
In fact, more than 2 billion people are expected to buy something online in 2022. Especially, shoppers are turning to online marketplaces to browse, compare prices, and buy products for the convenience of completing the task of shopping in one place with more ease and comfort.
Shoppers love the online marketplace as they loved to go to convenience stores. Online shoppers spent $1.86 trillion globally in 2018 and the amount is rising each year.  So, the expansion of the best eCommerce marketplaces around the world is rising day by day as well. 
If you are a retailer, there are huge benefits to selling your products in marketplaces. However, among the thousands of online marketplaces, it's very essential to choose the right one for you. 
As an attempt to assist you, here are some best e-commerce marketplaces you can rely on. They are unique and useful at the same time.
So, based on your requirement, budget, and overall e-commerce goals, you can use this write-up as a guide to figure out which marketplace will assist you to stand out and earn enough revenue. 
1. Amazon

Amazon has become one of the world's largest marketplaces and the largest eCommerce marketplace in the USA.
With more than 5 million marketplace sellers and more than 200 million US shoppers browsing the site every month, Amazon is one of the most popular and regarded as one of the very best eCommerce marketplaces available. 
Amazon is best suited for medium to large sellers who want exposure to a huge number of customers and it's equipped to handle the pressure of traffic as well. 
One of the main features of the Amazon marketplace is its strict product listing guideline. There's a specific standard for product listing. Hence, whether shoppers see your products or an Amazon listing, they will find the same thing.
As your product automatically earns the same level of prestige, i.e., standard as Amazon products, it drives up sales. 
For example, the following products are both high-quality computer backups, however, the first one is from Matein and the third one is from Amazon. 
Shoppers are looking at price and features, not at the name of the sellers. As long as the price of your product is competitive, it'll make a difference to the shoppers. 
The sellers like the two features: Fulfillment by Amazon (FBA) and the built-in affiliate program. 
As the preserver of the FBA feature, Amazon packs, and ships every product you sell. You don't need to worry about storing the inventory or hiring extra staff for packaging and shipment. 
With the built-in affiliate program, influencers in your segment get a unique URL that makes links to their own mock storefront.
Whenever they share your products with their audiences or followers, you will get extra exposure without spending money and be able to boost the sales volume. 
Last but not least, the Amazon marketplace helps you simplify your advertising by offering it as a built-in feature.
Depending on your advertising policy and your targeted audience, you have the option to choose to share sponsored product ads, sponsored brand ads, and custom store pages that will redirect traffic to an Amazon page and show more of your products.
Surely, Amazon is one of the best eCommerce marketplaces for online sellers. 
2. Walmart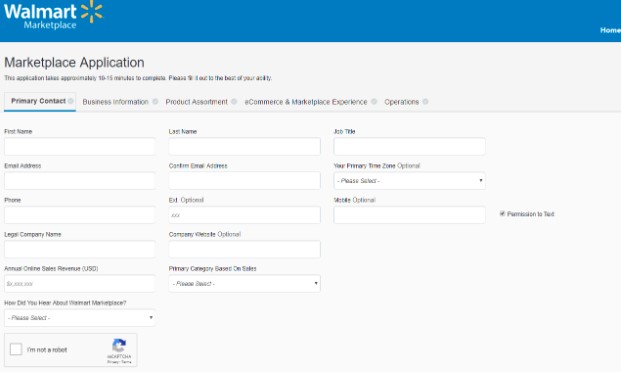 Walmart has been the largest retailer in the world for a long and in 2000, it entered the world of e-commerce by launching Walmart.com.
In 2018, their e-commerce sales grew by a massive percentage–43– and they retained the yearly growth till today, and have become one of the best eCommerce marketplaces for online sellers. 
Like Amazon, Walmart's marketplace is also perfect for medium to large sellers who want to increase their exposure.
After the approval of the application process to become a seller on their marketplace, you'll have access to the world of more than 120 million shoppers. 
Walmart doesn't accept sellers who only use FBA, but they serve to drop shippers. There, you can sell either as a drop-ship vendor or a seller, not both simultaneously. 
As Walmart has been around for a long, they have a huge customer base who are loyal to the brand. As the seller of this marketplace, you can take advantage of this brand value, as your listings look similar to Walmart's listings.
Most of the product categories of Walmart.com get lots of traffic and you can use your pricing, custom shipping, and return policy information to make a difference and increase the sales volume. 
In addition, they can access the customer support and safety features of Walmar.com. Furthermore, the marketplace integrates with various service providers.
Hence, you can automate many selling experiences according to your need. For instance, you can join Deliver which will enable two-day shipping of your products. 
3. eBay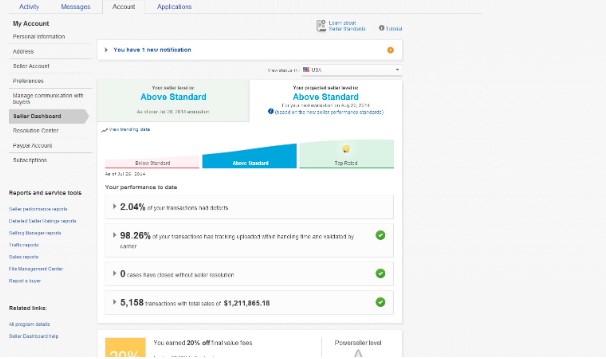 After launching as the reseller platform of already sold goods in 1995, it has become one of the largest e-commerce sites in the world.
This marketplace provides its users the facility of selling both new and old items and auctioning their products for a higher price. 
You don't need to apply to use it. You just have to sign up and create your own account. There are more than 200 million active monthly users of this site, and they are all around the world. 
If you just started a business and don't have a website yet, the eBay seller Hub is designed to help you as much as possible.
For example, you can run a promotional campaign on eBay and print shipping labels on your own. 
You'd also get an insight into product trends to observe which of your products are bestsellers, and which promotional tools shoppers use the most.
For all the customer-effective tools, eBay is regarded as one of the best eCommerce marketplaces for online sellers. 
4. Rakuten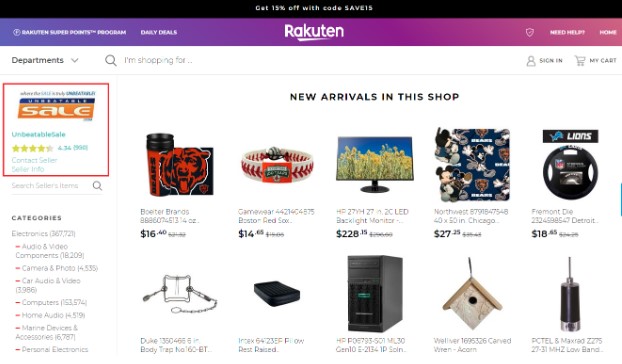 Rakuten, the fourth largest and one of the best eCommerce marketplaces in the world, is a global marketplace based in Japan, which has the potential to expose sellers to a huge audience.
For sellers who want to ship beyond the periphery of North America and grow their business internationally, Rakuten is a very good option.  
After the application of becoming a seller in Rakuten is approved, you'd get the chance to customize your account, i.e., storefront so that shoppers can easily reach your brand. You can also set your own return and pricing policies.  
One of the main charms of using the Rakuten online marketing platform is the option to offer incentives to shoppers while they are browsing the site.
For instance, customers participating in the Ebates program receive a small percentage of every purchase they do online, and they can use it on Rakuten.
Additionally, there's a Rakuten Super Points loyalty program where the more the customers purchase, the more points they get to enjoy discounts on future purchases. 
5. Etsy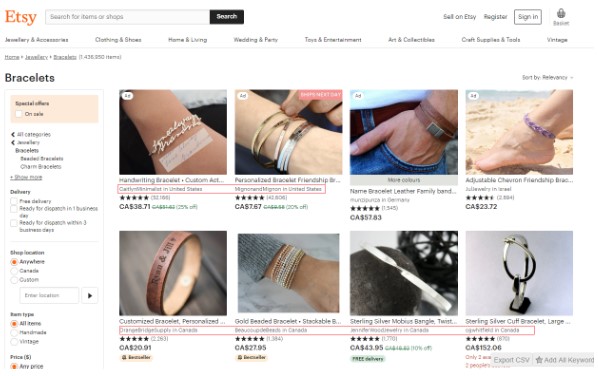 Etsy serves the purpose of shoppers who look for unique products. This characteristic makes this online marketplace ideal for small to medium sellers specializing in handmade or old products. 
Etsy sellers sell products without the inference of the Etsy brands. That means, purchasers, know they're buying your products compared with similar products sold by the marketplace. 
Just have a look at how the seller names are shown on the result page of this search:
When shoppers click on your brand name on the product page, they're redirected to your own customized storefront. 
If you don't have your own website, this facility preserves your brand. More than 40 million shoppers wander here virtually and look for products like vintage clothing, jewelry, accessories, and collectibles.
So, you can surely find a segment of ideal customers for your products and make your own niche. 
So, don't worry, and get the facility of these hugely user-based best eCommerce marketplaces, if you want to get excel as an online seller.